There are currently about 65 club members who share duties in regards to tank maintanance and care, fish feeding, and who are actively involved in club activities. For obvious reasons we cannot list their names and numbers here... but you can contact the club through email at :
osc@listserv.millersville.edu
The majority of club members are currently freshman and sophmores. Most are marine biology or oceanography majors-- yet the club is open for all students interested and has just grown with the addition of many new freshman (many of which are not science majors!)-- we are excited for this next year!
President- Justin Rule
Vice President- Carrie Miller
Secretary- Lauren Hvorceny
Treasurer- Nikki McKinsey
P.R. Rep- Marissa*
Aquarium Supervisor- Susie Carmichael and Sara Kindig
*new for 2003-2004 year... WELCOME!

contact club officers with questions and comments thru the club email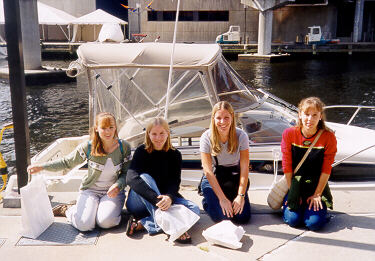 from left to right: sara, kristen, jill, and carrie at baltimore aquarium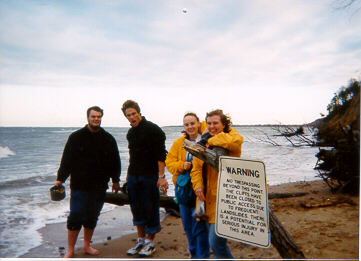 from left to right: brett (pres- 00-01), justin (pres- 01-02), sara, suzie (treas- 01-02) at calvert cliffs!

Welcome New Members!
New club members are always welcome! There is only one minor "requirement" to be officially recognized as a club member.

A fee of $5 is collected from each "member" near the beginnig of each semester. The sole purpose of this fee is to pay for transportation to and from activities and to serve also as an "emergency fund" in case a trip is "unavoidably" extended :o)

OUR NEWEST MEMBER:

A special "hello" to our newest club members. Besides the spotfin butterfly fish, Cecil, we have two NEW BANGHAI CARDINALFISH who just joined the 240 gal tank a few weeks ago. They are very active members who can always be seen around our 240 gallon display tank. In fact, they're always in the tank :o)

Thanks for joining "GHAI's" and stay away from the clownfish!