History of Our Club
The club itself started in 1976 and has been slowly growing in complexity and involvement on campus ever since. There is still much room for improvement as the club is growing, expanding and becoming more influential/ recognized on campus. With the new help of local aquarimists and faculty, we foresee big chance in the next few years.

In the summer of 1999, the club was donated a 240 gallon aquarium that now proudly resides in the 'Cyber Cafe' in the Sci-tech building. The constant maintanence of this aquarium is a big part of the club and is solely up to the club members. The tank is constantly being improved and upgraded with the help of faculty and local aquarimists.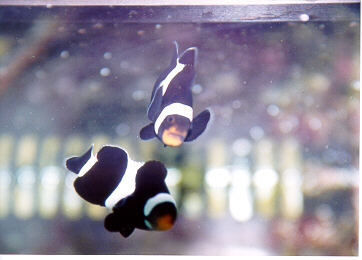 Our Goals
The Millersville Ocean Science Club exists for many purposes. The goal of the club is to stimulate interest in the field of the ocean sciences. Through fun and research oriented field trips, informal and formal lectures, peer presentations, intriguing videos and aquarium maintenance, we seek to further our knowledge of the practical aspects of the field.

Members are free to commit to whatever their schedules allow. Obviously, the more time you commit, the more you learn, the more you are a part of the club and the more you benefit from what the club has to offer. Along with the help of university faculty, students may also persue research interests and interships as a result of their involvement in the club.

Participation in the club should not be an obligation, it should be an enjoyable privilage. What are you waiting for?



Club Officers '04 - '05
President - Kevin Neyhard
Vice President - Tania Franks
Treasurer - Dave Ashnoff
Secretary - Kira Kanitra
PR Representative - Molly Einsig
Aq. Supervisor (fall) - Nicole Kaczor
Aq. Supervisor (spring) - Melissa Leiter
Club Officers 02-03'
President- Justin Rule (sen)
Vice President- Carrie Miller (sen)
Secretary- Lauren Hvorcney (sen)
Treasurer- Nikki McKinsey (jun)
P.R. Rep- Marissa (sen)
Aquarium Supervisor- Susie/ Sara (jun)

All officers have dedicated their time and efforts into improving the club and its organization. They were peer elected and all work together as a team to promote, progress, and enable the club to function properly.